News - August 25, 2023
Metroc secures €2 million in new funding
I am thrilled to share some exciting news with all of you: Metroc has successfully secured 2 million euros in seed funding, marking a pivotal moment in our journey. Big thanks to our new investor, Lifeline Ventures, and all the angel investors for believing in us. The biggest thanks go to our customers, team members, and partners – thank you for your trust and commitment.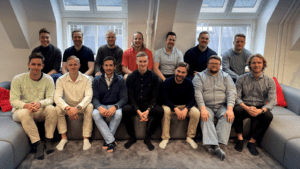 The Metroc team visiting the Lifeline Ventures office
Reflecting on our beginnings in 2019, our vision has always been to revolutionize the construction industry through technology. Now after a few years, we are working with 300 customers in Finland and Sweden to revolutionize the industry. Metroc was born out of a profound desire to make data easily accessible, understandable, and valuable to every stakeholder in the construction realm. We believe our unique AI-enhanced platform offers unprecedented clarity in a traditionally opaque industry. One remarkable partnership with the Prison and Probation Service of Finland (RISE), wherein inmates participated in training our proprietary NLP models, is proof of our out-of-the-box thinking and commitment to community engagement.
Securing this seed funding is a launchpad to take Metroc to the next level. With these funds and advice, we plan to expand our reach to other Nordic countries and beyond, ensuring that more industry professionals have access to our services. Additionally, we aim to grow our team, especially in tech, sales, and marketing, to continue offering unparalleled service to our customers.
I'm excited to look forward to what the future brings us and how to make a difference with your continued support to improve the future of the construction industry.
Jussi Virnala,
Founder & CEO,
Metroc Oy
In the media:
Tech.eu: Metroc raises €2M to bring clarity to construction projects using AI
Silicon Canals: Finnish startup Metroc raises €2M to advance AI development for the construction industry
EU-Startups.com: Helsinki-based SaaS startup Metroc secures €2 million to develop AI for construction industry
Talouselämä (in Finnish): Tähän rakennusalan yritykseen uskoo Lifeline Ventures: Startup on kehittänyt oman tekoälykielen, jota vangit kouluttavat
Breakit (in Swedish): Finska Metroc ökar takten (i Sverige också) – plockar in 24 miljoner